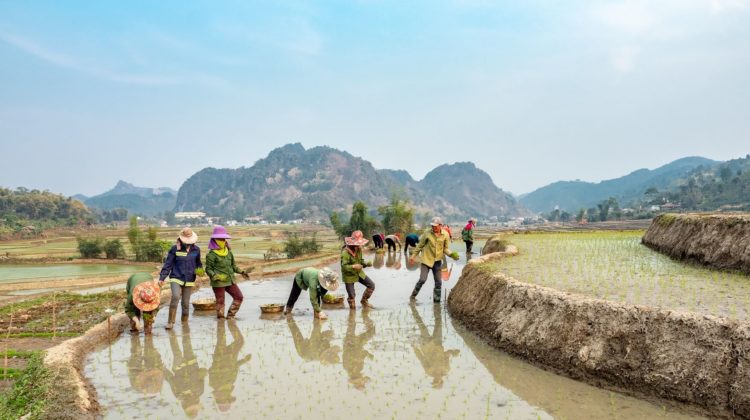 Bangladesh introduces micronutrient-enriched fortified rice first time in OMS
A person holding kernel in one hand and fortified rice in the other at a Fortified Rice Factory at Zobeda Auto Rice Mill in Kurigram s Fulbari Sadar Union WFP
The country is teaming up with WFP to fight nutrition deficiency among poor in Dhaka
Through its Open Market Sale OMS program, the Government of Bangladesh has long been providing millions of lower-income bracket people with subsidized rice.
However, for the first time in OMS operation history, Bangladesh on Monday rolled out a program where thousands of poor households in Dhaka will get access to low-priced rice fortified with six important micronutrients – Vitamin A, Vitamin B, Vitamin B, Folic Acid, Iron and Zinc.
Regular OMS is a public food distribution program, which sells rice at subsidized prices round the year when and where necessary for stabilizing the market price and to support the low income population.
Whereas, under the new initiative, rice fortification will provide an immediate, ready-to-use product that shall help to address micronutrient deficiencies in a large scale.
Fortified rice kernels look, taste and cook like ordinary rice but are enhanced with six essential vitamins and minerals – that the poor segment of population otherwise ill-afford due to lack of access to meat, fish, fruits and other non-rice diets.
Vitamin and mineral deficiencies account for an estimated % of the global disease burden, while iron, vitamin A and zinc deficiencies rank among the top leading causes of deaths due to disease in developing countries.
World Food Programme officials told Dhaka Tribune on Monday that the Food Ministry and the United Nations WFP have formalized the inclusion of fortified rice in OMS.
Under the program, the price of fortified rice was set lower than the market price, at Tk per kilogram for a maximum of kg of rice per household per day to families with lower income.
It is estimated that each household will be able to buy, on average, kg of fortified rice per month.
Starting from Monday, fortified rice will be sold six days a week in centres across Dhaka North and Dhaka South City Corporations from am till pm in selected shop outlets.
WFP officials told Dhaka Tribune that the UN agency aims to ensure distribution of fortified rice through the OMS program to enhance the food security and nutritional wellbeing of vulnerable households who consume diets deficient in micronutrients.
WFP's Country Representative Richard Ragan said: "Food insecurity has far reaching, long lasting impacts on the poor, particularly those living in areas undergoing rapid urbanization. The lack of access to a varied, nutritious diet is one of the leading causes of micronutrient deficiency and malnutrition in Bangladesh."
Sources at the food department and WFP confirmed Dhaka Tribune that they would continue fortified rice distribution under OMS in Dhaka till the end of October and if needed, are also ready to extend the program further beyond October depending on the current pandemic situation.
Director General of Directorate General of Food Sarwar Mahmud; WFP Country Representative Richard Ragan; and Chief Controller of Dhaka Rationing Md Zahangir Alam inaugurated the program at Chand Uddyan, Mohammadpur in Dhaka on Monday.
Nutrition International NI and Global Alliance for Improved Nutrition GAIN are supporting the advocacy for fortified rice in the program.
Director General of Directorate General of Food Sarwar Mahmud; WFP Country Representative Richard Ragan; and Chief Controller of Dhaka Rationing Md Zahangir Alam inaugurated the program at Chand Uddyan, Mohammadpur in Dhaka on Monday, August , WFP
"Fortifying the rice will provide essential vitamins and minerals when households are compelled to compromise food diversity due to access to markets and income opportunities during the Covid- crisis," said the government's food department Director General Sarwar Mahmud.
"It is also a cost-effective approach to address nutrient deficiencies in food aid to reach urban low income disadvantaged poor populations," he added.
Micronutrient-enriched fortified rice was first introduced in Bangladesh in July , in Kurigram for an acceptability trial.
The fortified rice, branded as Pushti Chal in Bangla, contains vitamins A, B and B, and Folic Acid, Iron and Zinc. The nutrients are powdered and mixed with rice flour to form pre-mix kernels and these kernels are then mixed with regular rice in : ratio.
The ministries of Disaster Management and Relief, and Women and Children Affairs in league with the United Nations World Food Programme WFP had then introduced the fortified rice in Bangladesh for an acceptability trial in two social safety net programs — Vulnerable Group Feeding VGF and Vulnerable Group Development VGD.
Under that pilot program, ultra-poor women of , households in Kurigram were first provided with fortified rice and then , more households in Satkhira received the fortified rice as part of their monthly food transfer under VGD and VGF programs.
Fortified rice, or Pushti Chal, has the same shape, colour and texture and cooks and tastes just like normal rice.
Regular milled rice is low in micronutrients and serves primarily as a source of carbohydrate while the fortification of rice is a major opportunity to improve nutrition, especially for those who suffer from hidden hunger.
Hidden hunger is a micronutrient vitamin and mineral deficiency in a person s diet. People who suffer from hidden hunger are often found to have eaten enough calories but their basic diet fails to provide enough crucial vitamins and minerals vital to their mental and physical health, officials explained.
Under a partnership with the WFP, Swiss company DSM Nutritional Products supported the UN body s strategic approach to rice fortification, and got engaged in efforts in Bangladesh, Cambodia and Vietnam to include fortified rice in social safety nets, and maximize the potential of fortified rice in tackling malnutrition.
DSM Nutritional Products, a subsidiary of Dutch multinational Royal DSM NV, teamed up with another Swiss company – Buhler – and established Wuxi NutriRice Co Ltd, in China in to produce the nutritionally enriched rice kernels to be mixed with regular rice.