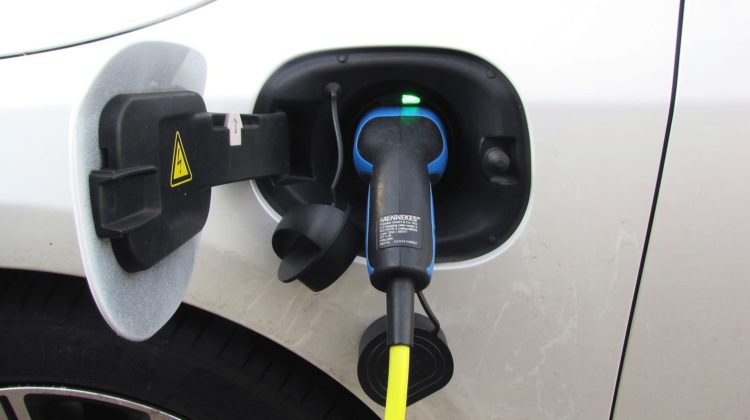 New Electric Cars Perform Wonders In Towns, Rural Roads, But Run Out Of Puff On Highways
Young girl with electric car without power in the battery is looking for help
Electric car sales are accelerating in Europe, led by the well-off who buy pricey Teslas TSLA and Audis. But as "cheaper" versions hit the market, consumers are in for a shock because the latest products are really city-cars and are hopeless on the highway.
Some experts say this should persuade car manufacturers to produce a cheap and cheerful electric runabout – call it a golf cart with windows – to spur electric acceptance. Others say no way to that, electric cars are in their infancy and by, say, will be competitive on price and range and why not add gasoline "range extenders" to electric cars now with poor long-range performance.
Meanwhile manufacturers are heading down the wrong track, trying to replicate all the attributes of an internal combustion engine vehicle. This works well at the expensive end of the market because the high cost of batteries can be easily absorbed. But "cheaper" electric cars – and in Europe we're talking average prices of around $, after tax – buyers will find they've bought a fantastic rural and urban car, but the battery is not able to deliver acceptable long-range performance on the highway.
This means long journeys which would take say, hours in an ICE vehicle, would take twice as long in a "cheaper" electric car which can only run for about to miles at high speed before exhausting itself. The added time is accounted for by up to an hour for recharging up to % of capacity, always assuming charger availability, charger functionality, or consumer payment compatibility. An ICE car or SUV would need only one, -minute stop for gas, if that.
Why don't the carmakers accept the reality that even at prices close to $, they can only effectively produce a city car? Why not just concentrate on a limited range, say miles, with a top speed of mph, which would be good for short-range commuting, the school run and shopping. This might cost around $, and really be a golf-cart on steroids.
It would be a huge spurt to electric car use at that price, and in Europe, where by it will, according to Volkswagen, be impossible to produce an affordable ICE small car because of European Union EU regulation, car buyers might embrace this, given that the alternative would be the bus. Even if it the choice looks like the Citroen Ami .
Professor Stefan Bratzel, director of Germany's Center of Automotive Management, agrees that some of these new, more affordable electric cars can't compete with ICE power over longer ranges, that carmakers should be up front about it, and maybe something cheap and cheerful would be better.
"We don't have this problem with Tesla and I've not tested the ID. yet, but it seems the cheaper the car the more problems you have concerning range," Bratzel said.
The Volkswagen ID., designed from the start to be an all-electric car, is launching this month in Europe. The ID. has a very aerodynamic shape, crucial to handling fast cruising speeds economically on highways. Last month VW announced an ID. had achieved kilometers miles on a single charge on a trip from Germany to Switzerland, but admitted some of this was achieved by free-wheeling down hills, and following closely behind trucks to take advantage of the slipstream. That's not a tactic that will appeal to regular drivers.
"Manufacturers must communicate more clearly the limitations of these vehicles and they are really city cars this is where they will normally be used," Bratzel said.
"I think that could be the answer. It would be OK for most consumers who might only need longer distances perhaps once a month," Bratzel said.
I've recently test driven new less expensive electric cars like the Hyundai Ioniq, Honda e, SEAT VW subsidiary Mii e, and the Vauxhall Corsa-E. The Vauxhall is part of Groupe PSA's electric car onslaught which includes similar versions like the Peugeot e, and Opel Corsa-E. The Corsa-E was rated at a -mile range by official EU, so-called WLTP, figures. But it never charged higher than miles for me. Around town and country it was very accomplished and the device to harness power when free-wheeling – so-called regenerative braking – worked well – often providing effectively free power. But on the highway at normal cruising speeds of around mph, it munched miles from the device which showed range availability at slightly more than twice the actual miles being attained. So its effective highway range was more like miles.
Groupe PSA concedes that range for the Corsa is cut to between and miles by fast highway driving using WLTP figures, so that suggest in the real world around miles is more likely.
These WLTP figures use more comprehensive data compared with its NEDC predecessor, to provide information which allows buyers to compare range across manufacturers. It might well do this, but in my experience all this data has one thing in common; none of it has any relevance to real world driving and seriously overstates range ability.
Viktor Irle, Stockholm, Sweden-based analyst with consultancy EV-volumes, agrees that current smaller electric vehicles fall down in the range race but said this is because development has barely started. These vehicles are really converted ICE cars with batteries. If, like the ID., they are designed from the start to be electric and with crucial aerodynamic ability, they will be more than competitive with ICE cars.
Professor Ferdinand Dudenhoeffer from Germany's Center for Automotive Research agrees, saying the Corsa and vehicles like it were designed as ICE vehicles and converted to electric power.
"The Corsa is not the best. There is room for improvement. It's the first generation for Groupe PSA," Dudenhoeffer said.
EV-volumes' Irle doesn't have time for the electric golf cart option and suggests carmakers use range extenders, small ICE engines which can be used to top up the battery, as a way of fixing the highway range problem. Irle also sees plugin hybrids, which often have battery-only range of up to to miles, as only part of the transition to full electric vehicles.
"Successful battery technology is moving down to the compact car segment with the ID. and is moving at a rapid pace. In say years, battery costs could be down to the level which will allow small cars to be competitive as all round vehicles," Irle said.
Felipe Munoz, global automotive analyst at JATO Dynamics, said these smaller electric cars like the Corsa-E represent a stage in the development of electric cars, and ICE ones still have a big advantage for long-distance driving and meanwhile the "golf-cart" option could help into the mid-term.
"In my opinion carmakers should concentrate on improving gasoline vehicles, making them cleaner and more efficient and at the same time working on solutions like the hybrid. All the time you have range issues with some electric cars, hybrids are the best way, not in years maybe, but right now," Munoz said.
Some European governments have been wary of offering big subsidies for plug-in hybrid cars, worrying that some owners, especially drivers of company cars who don't pay for fuel personally, won't ever bother with the electric option. They will simply use the ICE, which produces poor fuel economy acting alone.
The general public will reject these new, cheaper pure electric cars when word gets out they are not up to the job.
"If you can't drive from one city to another easily, that's no good. The best solution for an efficient car is a hybrid," Munoz said.