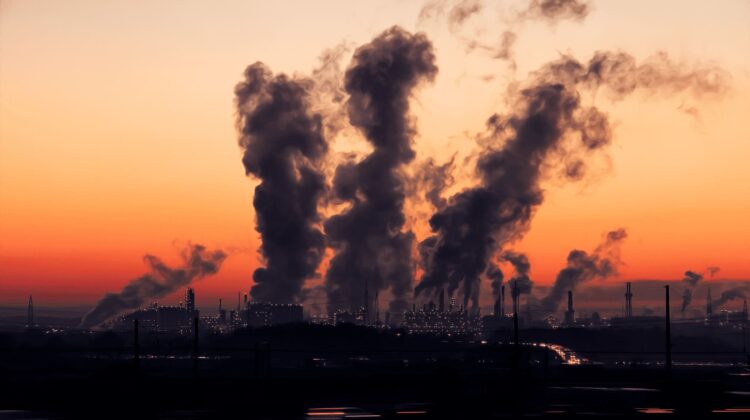 Fossil Decline Has Begun, But Time Running Out to Cut Emissions, Agencies Say
Oil and gas demand has levelled off, renewable energy costs are falling, and electric vehicles can dominate major markets by 2030, but countries will still need "unprecedented" emission reductions this decade to keep the worst of climate change under control, according to reports by three international agencies released yesterday and today.
"The world is in a critical decade for delivering a more secure, sustainable, and affordable energy system—the potential for faster progress is enormous if strong action is taken immediately," the International Energy Agency says in the 2022 edition of its annual World Energy Outlook report. And that progress doesn't include new fossil fuel development: "No one should imagine that Russia's invasion can justify a wave of new oil and gas infrastructure in a world that wants to reach net-zero emissions by 2050."
"This year's WEO confirms that the current energy crisis is a fossil-fuelled crisis," David Tong, global industry campaign manager at Oil Change International, said in a release. "Underinvestment in renewable energy and the resultant dependence on oil, gas, and coal is what caused this crisis. The IEA's analysis shows that nations with high shares of renewable energy supply have avoided some of the worst impacts of the energy crisis, benefiting from lower electricity prices."
But to get the transition done, trillions of dollars per year will have to be diverted from fossil to clean energy investment, the Paris-based IEA says. Today, economies around the world spend US$1.50 on clean energy for every $1 directed to fossil fuels. By 2030, that ratio will have to shift to 5-to-1 for clean energy supply and another 4-to-1 for energy efficiency and demand reductions.
So far, slow delivery on countries' emission reduction promises have put the world "on a path towards a temperature rise far above the Paris Agreement goal," the United Nations Environment Programme (UNEP) warns in a summary of its 2022 Emissions Gap Report, with a 66% chance of global warming hitting 2.4 to 2.8°C by century's end. The widely-accepted target for average warming is 1.5°C.
UNEP says countries are currently on track to cut emissions by 5% to 10% by 2030, far less than the 45% target set out in the "thunderous call to action" released in October, 2018 by the Intergovernmental Panel on Climate Change. Full implementation of every country's Paris commitment, or Nationally Determined Contribution (NDC), plus their subsequent net-zero commitments, "point to a 1.8°C increase," the UNEP summary states. "However, this scenario is not credible, based on the discrepancy between current emissions, near-term NDC targets, and long-term net-zero targets."
On Track for 2.5°C
In yet another report released yesterday, the UN climate secretariat says countries "are bending the curve of global greenhouse gas emissions downward," but not nearly enough: their current NDC commitments will increase emissions 10.6% from 2010 levels by 2030, by the UNFCCC's estimate, just a bit better than last year's calculation of 13.7%, and still enough to put the world on track for 2.5°C average global warming.
"The downward trend in emissions expected by 2030 shows that nations have made some progress this year," said UN Climate Secretary Simon Stiell. "But the science is clear and so are our climate goals under the Paris Agreement. We are still nowhere near the scale and pace of emission reductions required to put us on track toward a 1.5°C world. To keep this goal alive, national governments need to strengthen their climate action plans now and implement them in the next eight years."
Getting those reductions will "require a large-scale, rapid, and systemic transformation across the globe," spanning the "electricity supply, industry, transport, and buildings sectors, and the food and financial systems that would back these changes," UNEP says.
"Even if the transformation fails to fully bridge the 2030 emissions gap, every fraction of a degree matters," the UN agency adds. "Launching the transformation is necessary to move towards a carbon-neutral future that will allow us to limit global warming and deliver other social and environmental benefits, like clean air, green jobs, and universal energy access."
The IEA report says the world "first global energy crisis," sparked by Russia's invasion of Ukraine, produced "a huge US$2-trillion windfall for fossil fuel producers". Higher energy prices have increased food insecurity for predominantly poor households and endangered electricity supplies for 75 million people around the world who've only recently gained access. "With energy markets remaining extremely vulnerable, today's energy shock is a reminder of the fragility and unsustainability of our current energy system."
Energy Shock Favours Efficiency
But higher prices have also shone a light on the benefits of energy efficiency and low-emission fuels, and for the first time ever, the IEA's modelling of countries' current energy policies "has global demand for each of the fossil fuels exhibiting a peak or plateau," the report says. "Supply chains for some key technologies—including batteries, solar PV [photovoltaics, or solar-electric cells], and electrolyzers—are expanding at rates that support higher global ambition."
The IEA report underscores "that accelerating investment in clean energy and efficiency, not new fossil fuels, is the answer to both climate and energy security crises," Oil Change International says in its release. This year's analysis reaffirms the agency's conclusion last year "that new oil and gas fields and coal mines are not needed in a world staying below 1.5°C of warming. The IEA also emphasizes that new fields will not alleviate current volatility and instability in fossil fuel markets, given a four-year lag time, on average, for new upstream fields to move from approval to initial production."
One of the IEA's key future scenarios still shows energy-related CO2 emissions peaking at 37 billion tonnes in 2025, before falling slightly to 32 gigatonnes in 2050, enough to deliver on the UNFCCC's projection of a 2.5°C increase in warming. While "this is a better outcome than projected a few years ago," the IEA says, but "far from enough to avoid severe impacts from a changing climate."
With the right menu of supportive policies put in place, today's growth rates for deployment of solar, wind, electric vehicles, and batteries "would lead to a much faster transformation" than the projections currently show. The IEA's analysis shows a nearly doubling of world nuclear capacity by 2050, along with an eight- to 30-fold increase in solar and a four- to 10-fold rise in wind between 2030 and 2050. Carbon dioxide emissions from coal must fall from 15 to one billion tonnes per year by 2040.
"By 2030, if countries deliver on their climate pledges, every second car sold in the European Union, China, and the United States is electric," the IEA declares.
That line of thinking "finally bursts the oil and gas industry's bubble on the myth of gas as a 'transition fuel.' In all three WEO scenarios, oil, gas and coal now 'peak' or 'plateau.' New gas infrastructure is risky, expensive, and unnecessary, on top of being a bridge to climate disaster," said Oil Change Research Co-Director Kelly Trout.
"But to hold global warming below 1.5°C, peaks and plateaus aren't enough. Governments must ensure a rapid phaseout of fossil fuels begins immediately, coupled with surging investment into a clean energy economy that leaves nobody behind."
And all of those gains will depend on a drastic increase in clean energy investment, with emerging and developing economies currently facing the biggest shortfalls. The IEA's modelling calls for public and private spending to increase from US$1.3 trillion today to between $2 and $4 trillion by 2030, with governments taking the lead and providing the "strong strategic direction" to get private investors onboard.
"The investments required are far beyond the reaches of public finance," the report says. "It is vital to harness the vast resources of markets and incentivize private actors to play their part." But the IEA warns that those changes depend "on a host of more granular issues" that make the transition more complicated than issuing a declaration or a modelling report.
"Supply chains are fragile, and infrastructure and skilled labour are not always available," the report says. "Permitting provisions and deadlines are often complex and time‐consuming. Clear procedures for project approval, supported by adequate administrative capacity, are vital to accelerate the flow of viable, investable projects—both for clean energy supply as well as for efficiency and electrification."
Fossils In Decline
If clean energy spending doesn't accelerate, "higher investment in oil and gas would be needed to avoid further fuel price volatility, but this would also mean putting the 1.5°C goal in jeopardy," the IEA warns. But future, major investment in oil and gas "cannot be taken for granted," with no fossil producers outside the Middle East—not even fracking developers in the United States—spending more on exploration and development than they were before the COVID-19 pandemic.
That's because Vladimir Putin's war has prompted "a wholesale reorientation of global energy trade" that has sped up Russia's decline as an influential fossil energy supplier and ended the era of rapidly-growing demand for natural gas. At most, the IEA sees gas demand growing by less than 5% this decade before levelling off, with policies in the European Union and the United States accelerating the shift.
All of those factors make today's global energy crisis "a historic turning point towards a cleaner and more secure energy system," the IEA writes. "The environmental case for clean energy needed no reinforcement, but the economic arguments in favour of cost-competitive and affordable clean technologies are now stronger—and so too is the energy security case."
But "much more remains to be done, and as these efforts gather momentum, it is essential to bring everyone onboard, especially at a time when geopolitical fractures on energy and climate are all the more visible."
Beyond the global energy system, the Emissions Gap Report says major reductions in climate pollution won't happen in time without major contributions from the food and finance sectors. Dietary changes, ecosystem protection, more efficient food production, and decarbonized supply chains can reduce food system emissions to one-third of today's levels by 2050, the UNEP summary states. The financial system, meanwhile, "must overcome internal and external constraints to become a critical enabler of transformation across all sectors," with low-carbon investments rising to a minimum $4 to $6 trillion per year that still represents just 1.5 to 2% of global assets under management.
Primary Author: Mitchell Beer
Credits: This article by Mitchell Beer, https://www.theenergymix.com, is published here as part of the global journalism collaboration Covering Climate Now.