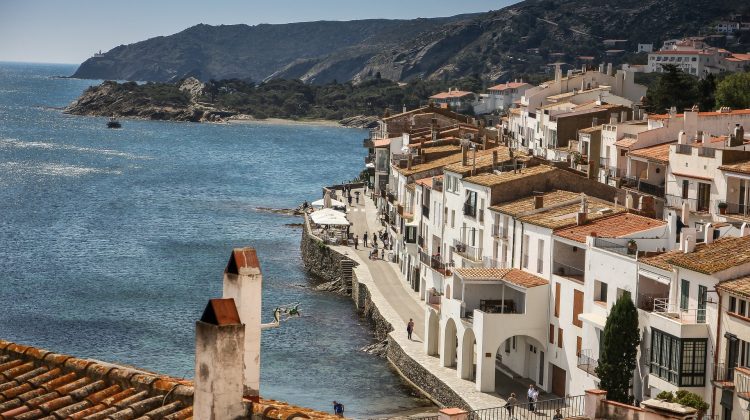 Textile Industry Catalonia: Are our new T-Shirts Made in Spain?
One of the lessons drawn from the pandemic is that globalization can be a disadvantage. Especially if you are dependent on raw materials and finished goods from the Far East, which may then not arrive on time. This has been the experience for many Spanish fashion brands that are among the largest in the world. Lockdowns have restricted their suppliers, and transport costs have grown enormously. The textile industry in Catalonia presents an alternative. Production can be done close to home, even locally, and it can be done well.
A t-shirt's journey from production in Asia to a customer's basket in Europe can take many months. Meanwhile, transport costs of cheap goods from the Far East have risen with the pandemic. In the cargo port of Barcelona, it becomes clear how much Europe's economy depends on Asian producers. More than 33% of all incoming maritime traffic from the Far East finds itself in the port of Barcelona, making it one of Europe's most important ports.
But as transport costs have risen by 300% in the last two years, global supply chains no longer pay off for many industries. Additionally, the lockdown measures imposed during the pandemic also meant a temporary closure of many transport routes. This led to a lack of supplies depriving retailers of their sales.
Catalonia on its way to old glory
This is also true for Spain's textile industry – which is the leader in Europe – responsible for the highest amount of sales due to the presence of industry giant Inditex. The pandemic has left the warehouses of the big brands half full. Now they are looking for alternatives to manufacturing plants in the Far East. Catalonia could step in. The long standing textile industry in Catalonia was going strong until the 1970s, when it began to decline. It was the driving force of industrialization in Catalonia and the one with the greatest economic weight until the 1970s.
Afterwards, the sector underwent a major reconversion to adapt to the new international environment characterized by the growing globalization of production and the eruption of emerging countries. The 2007 financial crisis aggravated this loss of economic weight. The textile sector in Catalonia consists of 4,115 companies with a turnover of 4.7 Billion (idescat 2016). It represents 4.6% of Catalonian industrial production and 9.7% of industrial employment. Most of them are small-sized companies of family origin and management, whereas 3% are medium or large enterprises.
The textile industry in Catalonia maintains the entire production chain, from yarns to ready-made products, as well as important industrial services, such as design, logistics and distribution. It also has specialized suppliers, providing goods such as textile technology and chemical products specific to the sector. Textile activity highly concentrates geographically. Seven regions account for 82% of total employment: Vallès Occidental and Oriental, Maresme, Barcelonés, and the central counties (Anoia, Bages and Osona).
Local production is the new formula
The corona crisis made small fashion labels resuming production in abandoned factories. A first compensation for the breakdown of their usual supply lines. They are trying to restart with modern machinery so that production can resume at full capacity. Production close to the markets is the new formula. In the pre-covid years production of many European brands focussed on China or other regions in the Far East. But recently Asian manufacturers became more selective in their role as suppliers
"WE ARE OBTAINING MANY COMMISSIONS FROM NORTHERN EUROPE. BRANDS, THAT BEFORE ONLY PRODUCED IN CHINA AND ARE NOW RESTRUCTURING THEIR BUSINESS MODELS TO LESS, BUT MORE SUSTAINABLE COLLECTIONS, FACED CONTRACTORS FOR WHOM ONLY LARGE AND FREQUENT ORDERS MADE SENSE" – ANTONIO EGEA
The demand for clothes produced in Catalonia is high, as Antonio Egea, owner of textile manufacturer Tex51, explains the situation in an interview for TV3. His company is based in the small Catalonian town of Igualada, just 36 kilometers northwest of Barcelona. It represents a new wave of optimism and growth in the textile industry in Catalonia. Their example may lead the way for an European alternative to Shein's Fast Fashion culture.
Factories in Europe can reduce delivery times and transportation costs. Meanwhile, sustainability is also a selling point. Instead of throwaway fashion, fabrics and materials are recycled and made into high-quality garments. They last longer and have less impact on the environment.
Author: Provided for you by Paul Majdzadeh-Ameli