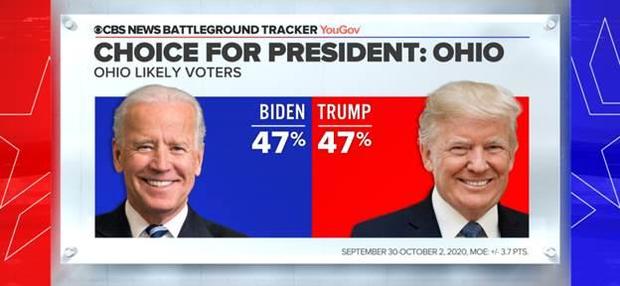 Trump and Biden even in Ohio, as Biden leads in Pennsylvania — Battleground Tracke
In an election held during a pandemic, partisan voters in two key battlegrounds continue to divide over casting ballots by mail versus in person. In Pennsylvania, where more than 2 million have requested mail ballots, most Democrats say they'll vote by mail, while Republicans overwhelmingly say they'll vote in person. And in both Ohio and Pennsylvania, President Trump is the preferred candidate among those planning to vote in person, while Joe Biden is the overwhelming preference among those who plan to vote by mail. This polling was completed before the president's hospitalization on Friday.
Overall, voters' preferences in these two important states remain much as they were this summer. Voters in Ohio show an even preference between Mr. Trump and Biden, and Pennsylvania's voters continue to give Biden a lead over Mr. Trump, by seven points.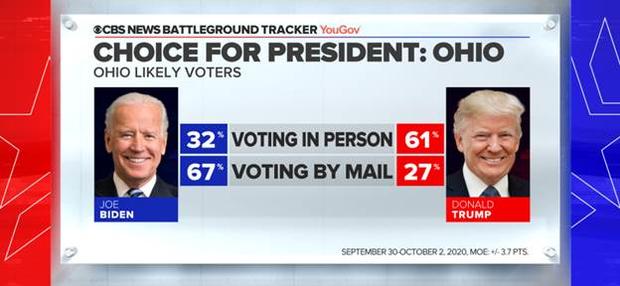 Voters in both states also largely seem decided now, and say they have firmed up their support. More now than this summer say they are very strongly behind their choice, particularly those for Biden in Pennsylvania.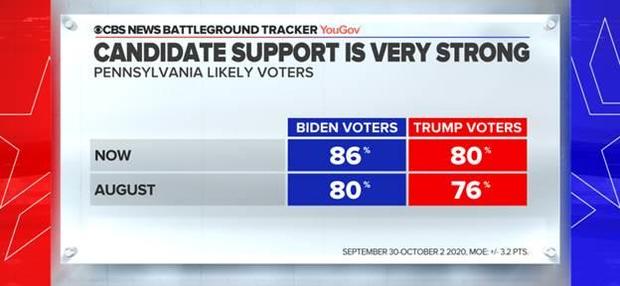 Most who plan to vote in person say they expect the process will be very easy to vote this year, and most who plan to vote by mail expect it to be somewhat — if not very — easy. But views are only mixed among all partisans on whether ballots will be accurately recorded and counted. Fewer than half are "very" confident in that count, and nearly as many are "somewhat" confident.
While many of those voting in person say they are willing to wait as long as it takes to cast their vote, a significant percentage are not. In Pennsylvania, 33% of Biden voters and 37% of Trump voters say they would not be willing to wait more than an hour. Should polling places be more limited come November, those could be important numbers to remember.
The first presidential debate does not appear to have moved the contests in these states in any substantial way from the summer, perhaps not surprising since so many voters have been locked in.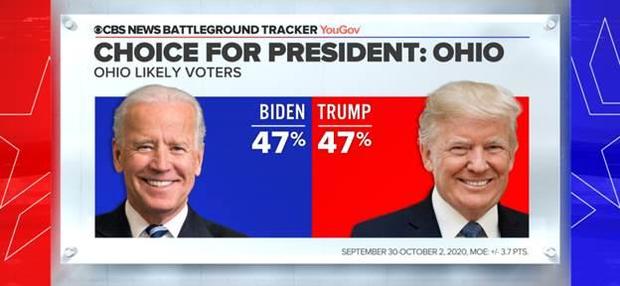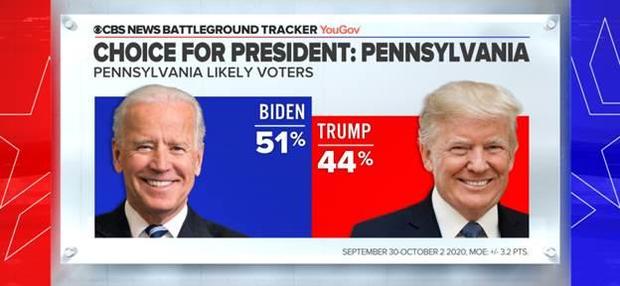 But more voters in these states describe Biden as having the right temperament than describe Mr. Trump that way. However, for some of the president's supporters, this quality may not be as connected to their vote. In Pennsylvania, many Republicans who don't describe the president this way are backing him over Biden by large margins.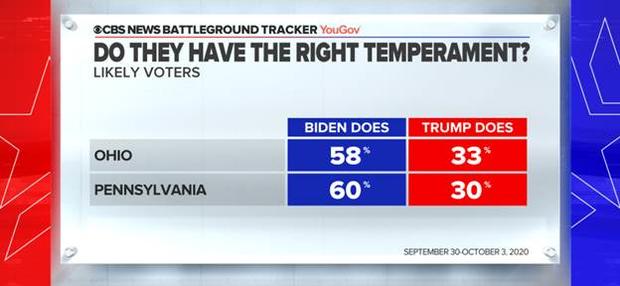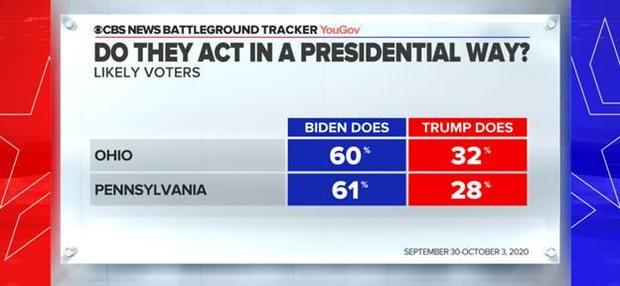 Handling of the economy continues to be an advantage for the president, particularly in Ohio. More voters see him as better able than Biden to handle it and as the candidate who would do more to protect manufacturing jobs.